Joanne Matthews from our Cruiseabout Takapuna store recently sailed from Wellington to Melbourne on the Queen Elizabeth and truly had the time of her life. 'The ship is only 2 years old and just pristine, and the experience on board is also just wonderful'...
She holds approx 2000 passengers and is currently on her 107 day world voyage. 50 % of the ship were lucky enough to be doing the whole world voyage which I certainly would love to do one day. One gentleman on board had travelled a total of 2,800 days with Cunard over his lifetime – almost 8 years !!
Cunard is suitable for all sorts of passenger age groups and types. But it is especially great if you want to feel very spoilt and enjoy the finer things in life, such as formal nights on board, balls and high teas in the Queens room.
There is so much to do – from Bingo, Trivia, Dance classes, Movies, Lectures, Gym classes, to Spa treatments or perhaps just enjoying a glass of bubbly or a cocktail poolside.
There were only a few children on board so it doesn't necessarily attract the family market, but by the same token they accept children no problems and cater for them very nicely. They even take children from 2 years in the kids club and on many other cruise lines they have to be 3 years or older to be left unattended so I think this is a real plus.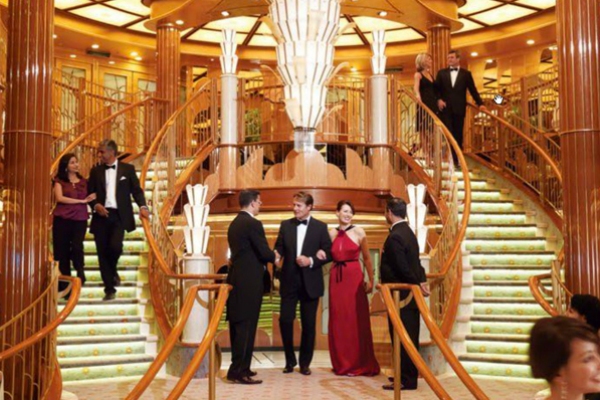 There are many dining options. The Britannia Grill is the main dining restaurant where you can have breakfast, lunch and dinner (2 sittings) ala carte. The food is just divine and the service is also wonderful, you get to know your waiters and sommeliers before long. If you do not feel like dressing up for an ala carte experience you may choose to go to the Lido restaurant for a buffet. The buffet again is delicious and open 24 hours !! So you can get whatever you like at any time of the day or night. You also may choose room service on your balcony which we did one breakfast which was just lovely, all at no extra charge. The Verandah restaurant is the fine dining restaurant and is a real must. We chose to have the 7 course degustation menu here which we couldn't fault. It was absolutely amazing. All for an additional USD35 !!
Overall I had the most magical experience and would recommend Cunard to any discerning traveller. The onboard experience certainly lived up to the Cunard name !!
Looking for more information on Cheap Cruises or Cruise holidays? Call a cruise holiday expert at a Cruiseabout store nationwide on 0800 22 11 00.